Sup? Welcome to the second entry in "Movie Star Smackdown", a new series I'll be doing that takes a look at five stars similar in age, using a completely arbitrary system to determine who's had the best career, who's the hottest right now, and who has the best prospects moving forward. I will look at the work of the stars –factoring in box office success, critical acclaim, awards, etc.- and ultimately "rank" them, if you will. I don't care about their personal lives, endorsements, whatever. This is about what they bring to the screen and that alone. This a pointless but hopefully fun exercise and I encourage you to not take this too seriously.
I will also include brief, offensive, semi-satirical (I think) takes from my friend "Hater Tom". Hater Tom chooses to remain anonymous since he says some rude thing and thinks blogging is "just a smidge below TV musicals on the gaydar". I swear Hater Tom is not me. Hater Tom is a friend who watches a lot of movies who asked to give a few sentences via e-mail. I thought it'd be a funny addition because most of the things he says make me laugh.
This group includes some serious talent between the ages of 51 and 54. All rank high amongst the most successful male actors ever, and they're still churning out good work.
The tributes are Tom Cruise (53), George Clooney (54), Brad Pitt (52), Johnny Depp (52), and Russell Crowe (51).
Tom Cruise
Biggest Hit: Top Gun
Best Performance: Jerry Maguire
Hollywood studios struggle to make mid-budget blockbusters nowadays. Hits are generally hundred million dollar franchise entries or small indies that receive awards attention. That's in-part due to the fact that there aren't many stars with Tom Cruise's drawing power. In the mid-80's, Risky Business and Top Gun established Cruise as a bona fide star, and he's kept that going for thirty years. The critical acclaim has been there for classics like Rain Man, Jerry Maguire, Born on the Fourth of July, A Few Good Men, and Magnolia. Mission: Impossible, now 20 years removed from the first film, remains Hollywood's most dependable action franchise. Despite a few misfires and a highly scrutinized private life, Tom Cruise will not be defeated. The quintessential 80's/90's star also happens to be an A-lister today. He's shown range with films like Collateral and Tropic Thunder. He's got a couple of action sequels on deck (Jack Reacher, Mission: Impossible), and will carry Doug Liman's crime-thriller Mena for Universal. Cruise isn't going anywhere anytime soon.
Hater Tom: "Remember the time Tom Cruise cried like a little bitch and threatened to not promote Mission: Impossible because South Park made fun of him for being a wacko scientologist? That says everything there is to say about Tom Cruise. Fuck him. All his classics are really just movies your dad likes and you pretend to."
George Clooney
Biggest Hit: Ocean's Eleven
Best Performance: Up in the Air
The pretty guy from ER took a bit longer than Cruise to prove himself as a leading man. His turn as Batman was a failure, and while films like Three Kings and From Dusk till Dawn have lasted, it wasn't really until the 21st century where Clooney became a giant star thanks to hits like The Perfect Storm and Ocean's Eleven. Once Clooney established himself as an A-lister, he had the chance to take on more challenging roles and the industry quickly noticed. It's strange to think about now in 2016 but there was a time when Clooney was viewed by many as a bad actor with a pretty face. He's since stepped into the director's chair successfully, and still finds the time to balance silly stuff (his work with the Coen Bros) with more challenging acting. Clooney doesn't do as many movies anymore, though he keeps busy with humanitarian work. He'll star in Jodie Foster's Money Monster later this year.
Hater Tom: "George Clooney actually thinks he's saving the world. What a dweeb. I'd have plenty of money to give to Darfur too if I could make twenty million to float around in front of a green screen next to Sandra Bullock. And this crap about the environment? Please, explain to me how Clooney taking his private jet from conference to conference helps the environment. He also owns a tequila company and I drank it one time and my girlfriend left me shortly after. Fuck him."
Brad Pitt
Biggest Hit: Ocean's Eleven
Best Performance: Moneyball
Brad Pitt, the tabloid's favorite sex symbol, proved himself to the critics in the 90's but (like Clooney) became one of the biggest stars on the planet with Ocean's Eleven. Many of Pitt's early films are now viewed as cult classics (Fight Club, Se7en, Snatch). He's also made it big on the producing front. Some of Pitt's biggest recent hits include Fury and World War Z. Something that jumps out when you look at Pitt's filmography is the fact that he's worked with so many brilliant but very different directors (Steven Soderbergh, Terrence Malick, David Fincher, Quentin Tarantino, Bennett Miller, The Coen Bros, Alejandro Gonzalez Inarritu, Terry Gilliam, Ridley Scott). Pitt has had a diverse and accomplished film career. His next film, the war comedy War Machine, will see him star alongside Ben Kingsley and Emory Cohen.
Hater Tom: "I don't have any real beef with Brad Pitt. He made Fight Club and Se7en which are two of my favorite movies. And he also has had sex with both Jennifer Aniston and Angelina Jolie (Gwyneth Paltrow as well, but fuck her)."
Johnny Depp
Biggest Hit: Pirates franchise
Best Performance: Donnie Brasco
Johnny Depp has always been a bit of a weirdo as far as international celebrities go. His first performance to gain real traction post-TV came in Edward Scissorhands, which kicked off a successful partnership with director Tim Burton (the two bring the best out of each other, in most cases). Ever since the first Pirates film hit, Depp has been a superstar, though he hasn't been flop-proof. But for every Mortdecai or The Rum Diary, Depp hits us with another Pirates or a billion-dollar film like Alice in Wonderland. His turn as Whitey Bulger in Black Mass marked a bit of a comeback for him after some less-than-stellar reviews and box office results. Depp will remain in the conversation as the next two years will see him anchor another Alice and Pirates, as well as the Kevin Smith movie Yoga Hosers.
Hater Tom: "When Depp isn't busy gargling Tim Burton's balls, he can act. I really like Donnie Brasco, Black Mass, and Blow. But has there ever been another straight man who loves makeup as much as Johnny Depp does? I was just informed they're doing another Pirates movie because apparently that's something people are still interested in. Or maybe Johnny Depp needs more money for his dog-smuggling ring."
Russell Crowe
Biggest Hit: Gladiator
Best Performance: L.A. Confidential
This Australian found critical acclaim early in his career thanks to The Insider and L.A. Confidential but it wasn't until Gladiator (still his most iconic movie) that he became a true superstar. From there, Crowe consistently gave great turns in relatively successful movies. He's one of the few actors of his notoriety who's never really been lambasted for a performance. He generally rises above the criticism for his weaker movies. Crowe's off-camera image paints him as being violent and having some anger issues, which arguably makes him more fascinating than some of the "perfect" movie stars out there. A Beautiful Mind, Cinderella Man, Master & Commander, 3:10 to Yuma, American Gangster, Noah. Russell Crowe has given some of the best turns this century (he directs now, too. The Water Diviner, his debut, is quite good).  Next, he'll star in Shane Black's The Nice Guys alongside Ryan Gosling.
Hater Tom: "Fuck yes. Finally an actor I can get behind. Russell Crowe. He's so awesome. He's actually not a pussy either, which is something that Clooney can't say. Gladiator is maybe my favorite movie ever after John Q. so I can't be mad at Russell Crowe."
---
Box Office Success:
Cruise
Depp
Pitt
Clooney
Crowe
Tom Cruise, to this day, is one of the safest bets in Hollywood. He's shown the ability to have a successful franchise built around him (Mission: Impossible), carry medium-budget studio films to huge results (Risky Business, Top Gun), and star in standalone movies that do big business (Minority Report, The Last Samurai, Vanilla Sky). "Awards movies" that star Cruise also do a lot more business than their counterparts (Born on the Fourth of July, Jerry Maguire, Rain Man). Despite the fact that his off-camera life brings much criticism (some of it fair, some of it not), Tom Cruise has been putting people in the seats at a level matched by few for 30+ years now. And he's not slowing down; the most recent Mission: Impossible did $682M, Edge of Tomorrow did $370M, Oblivion and Jack Reacher did $286M and $218M respectively despite mixed reviews.
Depp's hits, both his independent and big-budget Tim Burton collabs, as well as the gigantic Pirates franchise, make it easy to overlook some of his recent flops (Mortdecai, Transcendence, The Lone Ranger). Of the 50 highest-grossing movies ever, 5 of them star Johnny Depp. You simply can't ignore that number. He's also shown the ability to carry films that aren't mega-blockbusters. Black Mass, Public Enemies, The Tourist were all relative recent hits. Some of Depp's films that weren't smashes were experimental projects that have grown on to become cult classics and made money via DVD sales/streaming (Ed Wood, What's Eating Gilbert Grape). A younger Depp was a good source for surprise hits (Edward Scissorhands did 4x its budget, Chocolat did 5x its). Depp will look to add a couple more billion-dollar films to his resume with Alice Through the Looking Glass and (another) Pirates movie coming up.
Pitt and Clooney were close, especially given that the Ocean's films are perhaps the most successful in their filmographies, but Pitt gets the edge. Pre-Ocean's Pitt had a bit more success; Se7en, 12 Monkey's, and Sleepers were all big hits. Pitt has also remained flop free post-Ocean's, whereas the likes of Solaris, The Monuments Men, and Tomorrowland but a dent in Clooney's otherwise impressive box office track record. It should also be noted that Clooney's biggest hit, Gravity, can attribute more of its success to Sandra Bullock/awards season/technical work. Pitt has carried movies like Troy, Mr. & Mrs. Smith, and World War Z to huge numbers, while his "awards movies" (Moneyball, Inglorious Basterds, The Curious Case of Benjamin Button) all did very well. Crowe has by no means been a box office flop; he just simply doesn't work as frequently as the other four here. Two of his Oscar movies, Gladiator and A Beautiful Mind, are his biggest hits.
Hater Tom: "Of course Crowe comes in last, because he's not an asshole who likes to see his face on billboards. He'd rather spend his time doing cool shit like playing rugby or assaulting concierges. The numbers for Depp prove how stupid people are. You sheeple will pay $15 to see anything with that sally wearing a bunch of makeup." 
---
Talked About/Sex Appeal:
Depp
Pitt
Cruise
Clooney
Crowe
Depp wins here. His ability to turn strange, alternative films into smash hits has garnered him a humungous, cult-like fan base. The Black Mass comeback narrative was perhaps the story of 2015, and while it didn't result in an Oscar nom like many thought it would, it did certainly reestablish him as one of the top working actors in the minds of moviegoers. Pitt has probably been the hottest over the last three years. Tabloid stuff aside, he's really grown into the image of actually being a good actor willing to take risks. Both Depp and Pitt work the sex symbol/acclaimed actor balance perfectly.
Cruise finds a way to pack theatres, but the general discussion of him is usually negative (a lot of people think he's a bad actor AND person). He's become the poster boy for "holy shit scientologists are crazy". Also, he feels a bit older than the other four just because he's been a star for so long. I don't think this really matters, as he's still an A-list star, but in discussions I've had, people seem to care less about Cruise than Depp or Pitt.
Clooney has developed into a humanitarian/director first, actor second. This is fine and admirable, but it certainly negates some of his popular appeal. Crowe, again, doesn't work very frequently anymore. He's a tier below the other four in this category.
Hater Tom: "Zak talking about the sex appeal of men again, go figure. Only dweebs who've seen Sweeney Todd a hundred times give two shits about Johnny Depp. Whenever Brad Pitt seems to be losing a bit of steam he just adopts a kid and everyone praises him. Tom Cruise is literally fucking insane. The fact that Russell Crowe isn't talked about much means he's good." 
---
Critical Acclaim/Consistency:
Pitt
Crowe
Cruise
Clooney
Depp
Pitt was a darling with the critics before the tabloids, thanks to scene-stealing work in True Romance and 12 Monkeys. When he became an A-lister, the acclaim remained, though there was a stretch when Mr. & Mrs. Smith and the second Ocean's movie had some writing him up as little more than a pretty boy. He quickly killed that narrative with Babel, The Assassination of Jesse James by the Coward Robert Ford, Burn After Reading, Benjamin Button, and Inglorious Basterds. The acclaim continued into the 2010's with The Tree of Life, Moneyball, and Killing Them Softly. The only recent movie for which he received bad words was The Counselor, and that film has started to be revaluated anyways.
With notable exceptions Broken City and The Man with the Iron Fists, all of Crowe's films receive mostly positive reviews, and he usually avoids criticism for his more average movies (Man of Steel, Robin Hood, Body of Lies). It feels like I'm repeating myself, but Crowe's selectiveness is a factor. If you do fewer movies than other stars, you're unlikely to receive as much criticism. But that's not the whole story. Critics love Crowe, and he hardly picks inherently flawed projects. Throughout the 80's and 90's, Cruise garnered the acclaim to match his popular success. He's had more mixed success since. The first three Mission: Impossible movies -while hits- weren't really viewed as anything special. Vanilla Sky and Lions for Lambs were panned.  The last universally lauded Cruise performance came in Tropic Thunder, strangely enough.
When Clooney is on, the critics adore him, but you can't overlook his panned Batman, The Monuments Men, Tomorrowland, and Leatherheads. Clooney is at his best as an actor when he ISN'T directing. Depp is really the only one of these five to receive a large number of bad reviews for his work, and to be fair, that's bound to happen when you do a million Pirates movies/take on very unorthodox roles.
Hater Tom: "Critics are all losers but at least they're right to recognize Russell Crowe. I honestly don't think Clooney was a bad batman. Oh, and fuck everyone for going all crazy over Benjamin Button. That movie sucked."
---
Awards:
Simple category, and less subjective. I take the 4 "biggest" awards (BAFTA, Oscar, Golden Globe, SAG) and give 1 point for a nom, 3 points for a win.
Clooney
Crowe
Depp
Cruise
Pitt
George Clooney: O Brother, Where Art Thou? (Globe win – 3 points), Syriana (Oscar win, BAFTA nom, Globe win, SAG nom – 8 Points), Good Night and Good Luck (BAFTA nom – 1 point), Michael Clayton (Oscar nom, BAFTA nom, Globe nom, SAG nom – 4 points), Up in the Air (Oscar nom, BAFTA nom, Globe nom, SAG nom – 4 points), The Descendants (Oscar nom, BAFTA nom, Globe nom, SAG nom – 4 points). Total = 24 POINTS
Russell Crowe: The Insider (Oscar nom, BAFTA nom, Globe nom, SAG nom – 4 points), Gladiator (Oscar win, BAFTA nom, Globe nom, SAG nom – 6 points), A Beautiful Mind (Oscar nom, BAFTA win, Globe win, SAG win – 10 points), Master & Commander (Globe nom – 1 point), Cinderella Man (Globe nom, SAG nom – 2 points). Total = 23 POINTS
Johnny Depp: Edward Scissorhands (Globe nom – 1 point), Benny & Joon (Globe nom – 1 point), Ed Wood (Globe nom – 1 point), Pirates of the Caribbean (Oscar nom, BAFTA nom, Globe nom, SAG win – 6 points), Finding Neverland (Oscar nom, BAFTA nom, Globe nom, SAG nom – 4 points), Charlie and the Chocolate Factory (Globe nom – 1 point), Pirates 2 (Globe nom – 1 point), Sweeney Todd (Oscar nom, Globe win – 4 points), Alice in Wonderland (Globe nom – 1 point), The Tourist (Globe nom – 1 point), Black Mass (SAG nom – 1 point). Total = 22 POINTS
Tom Cruise: Risky Business (Globe nom – 1 point), Born on the Fourth of July (Oscar nom, BAFTA nom, Globe win – 5 points), A Few Good Men (Globe nom – 1 point), Jerry Maguire (Oscar nom, Globe win, SAG nom – 5 points), Magnolia (Oscar nom, Globe win, SAG nom – 5 points), The Last Samurai (Globe nom – 1 point), Tropic Thunder (Globe nom – 1 point). Total = 19 POINTS.
Brad Pitt: Legends of the Fall (Globe nom – 1 point), 12 Monkeys (Oscar nom, Globe win – 4 points), Babel (Globe nom 1 point), Burn After Reading (BAFTA nom – 1 point), The Curious Case of Benjamin Button (Oscar nom, BAFTA nom, Globe nom, SAG nom – 4 points), Moneyball (Oscar nom, BAFTA nom, Globe nom, SAG nom – 4 points). Total = 15 POINTS
I was genuinely surprised when I looked this up and saw that Pitt has received significantly less awards attention than Clooney, Crowe, and Depp. Tom Cruise hasn't been nominated for an Oscar since '99, which makes sense given he's stuck to mostly studio blockbusters. The Golden Globes (Hollywood foreign press), like the people, love Johnny Depp more than the rest of the industry does. Those are really my only observations.
Hater Tom: "Johnny Depp got nominated for an Oscar for Jack Sparrow? What the actual fuck? He says he based that performance on Keith Richards, but that's a bunch of bullshit. Depp should not be allowed to mention the name Keith Richards. I could literally have played Jack Sparrow. All it requires is to be drunk and not as good-looking as Orlando Bloom."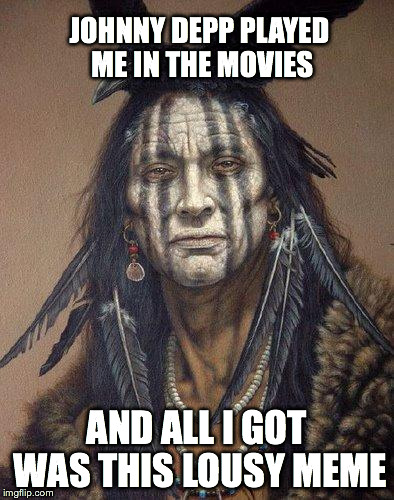 ---
Final Results:
Tom Cruise
Brad Pitt
Johnny Depp
George Clooney
Russell Crowe
Welp. My system didn't help too much. Cruise, Pitt, and Depp were all tied based on tallying rankings. Cruise got the edge because he didn't come in last anywhere, while I put Pitt over Depp due to recency bias. Clooney and Crowe were a tier below them. I expected that with Crowe given his selectiveness and lack of a franchise, but I was surprised to see just how many unsuccessful movies Clooney has been in.
Cruise has had the best track record of the five. Pitt is probably the best right now. I'd give Depp the edge moving forward due to the two mega-franchises he's attached to. Clooney and Crowe don't seem all that interested in acting anymore.
Hater Tom: This must be a fucking joke designed to anger me personally. Russell Crowe is the best actor of the last 30 years after Denzel. I've never met anyone who doesn't think Tom Cruise is an asshole and shitty actor. Johnny Depp is only popular amongst girls who liked My Chemical Romance in middle school and then became indie-rock dweebs in high school. Crowe is great, Pitt is tolerable, the other 3 are vomit-inducing.
Well, thanks for reading. One thing is for certain, all five of these actors are amongst the most successful of the last 20-30 years.
Next time, I'll look at ladies between the ages of 25 and 26: Jennifer Lawrence, Kristen Stewart, Margot Robbie, Elizabeth Olsen, and Brie Larson.
Hater Tom: "Oh boy, another asshole with a laptop is going to talk about Jennifer Lawrence. I'm so fucking sick of her."